All of us are making difficult choices as we face the challenge of COVID-19. We have canceled our March program and will follow the town and state's lead regarding our upcoming April programs. Please check the website for updates before planning to attend a club activity. Hoping you find time to work in your garden during this uncertain time and remember to follow the social distance policy.
Many of our activities are centered around Onatru Farm, but we also use Cyrus Russell Community House and the Lewisboro Library.  We can also be reached at our Facebook page for more information. See our Resource page for sites to review in preparation for spring planting .​​​​​​​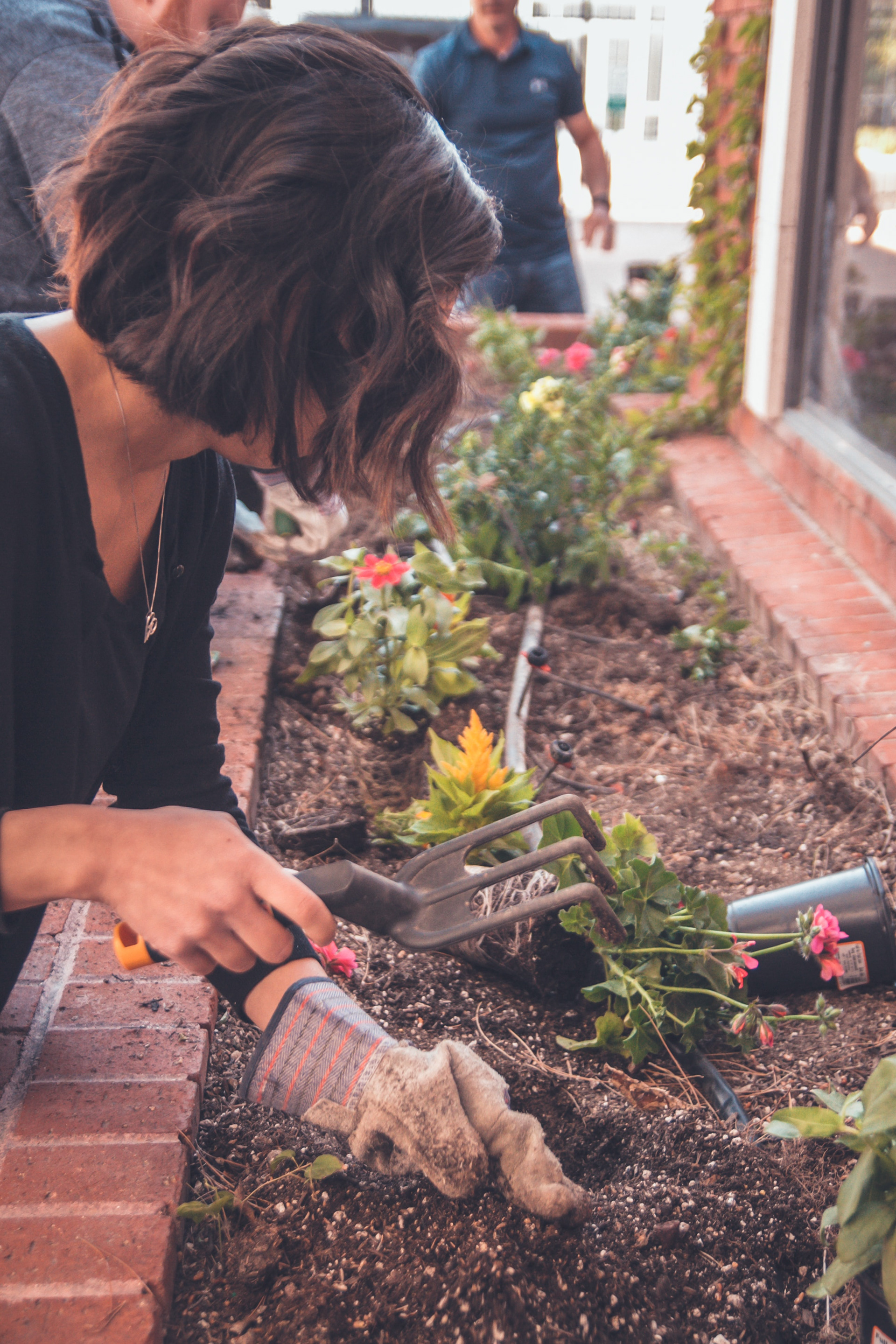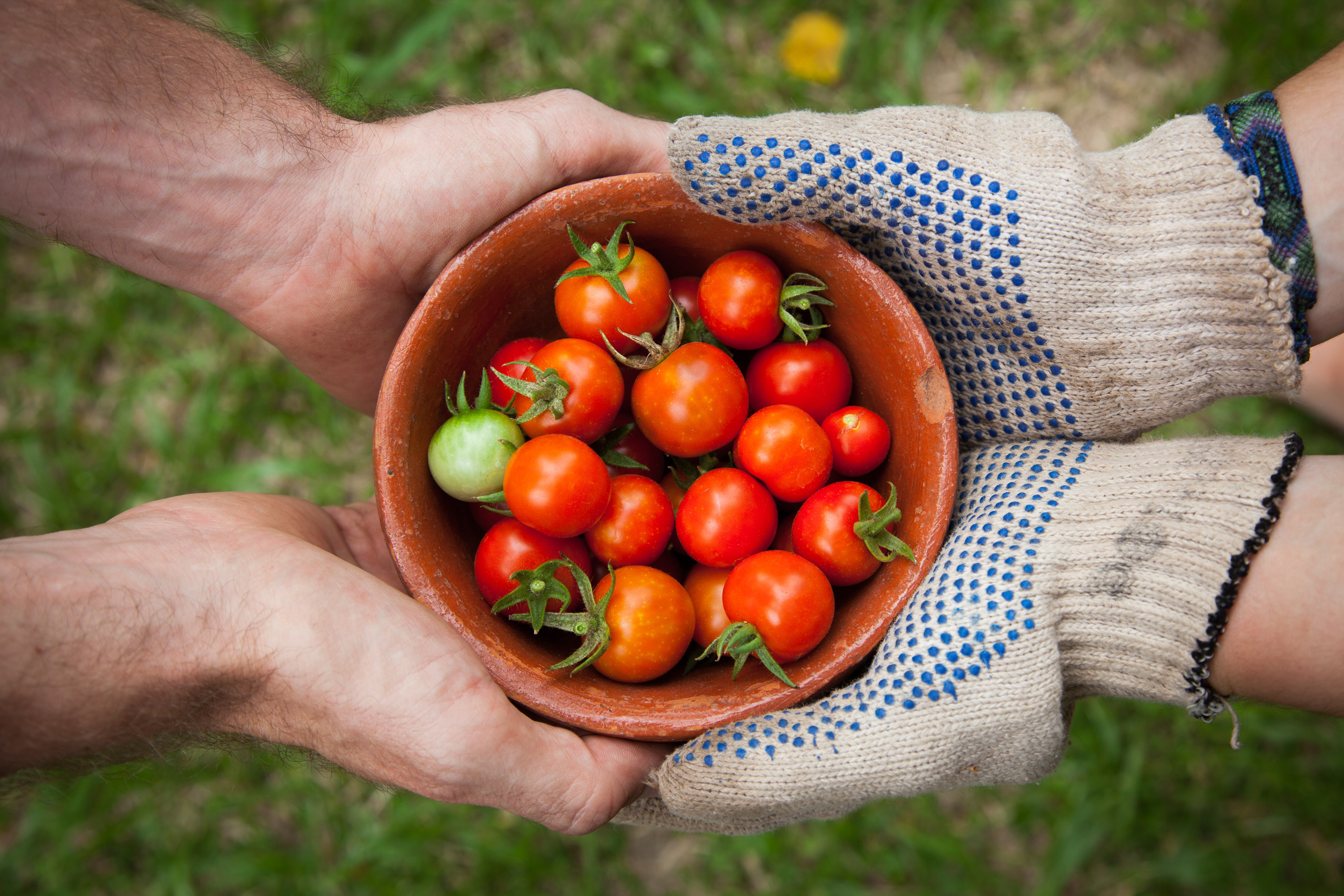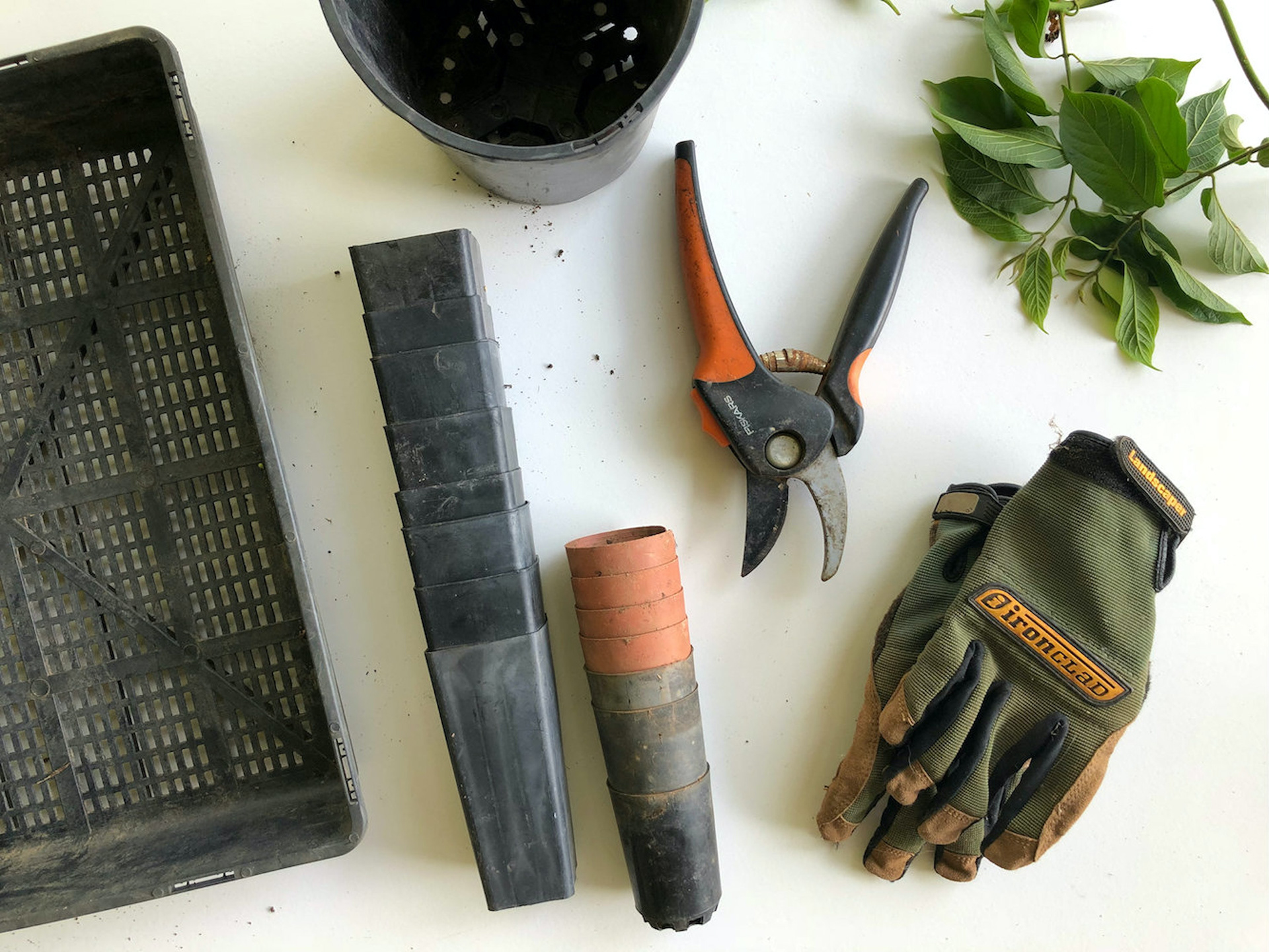 Holiday Party and Swag Making
December 5 – Saturday, 9 AM, Onatru Farm 
Join us for the end of year Holiday Party and Swag Making. Zoom event details to follow.
The Lewisboro Garden Club has a tradition of hanging swags on all of the white wooden signs as you enter Lewisboro and many of the signs for town parks and preserves.  The tradition began many years ago with members of the Garden Club gathering the materials from the woods in the area.  Bows were made, boughs wired and then the swags were hung.  
This year, in order to protect club members during this pandemic, almost 40 decorated swags were donated by Jenn and Peter Cipriano of Copia Home & Garden.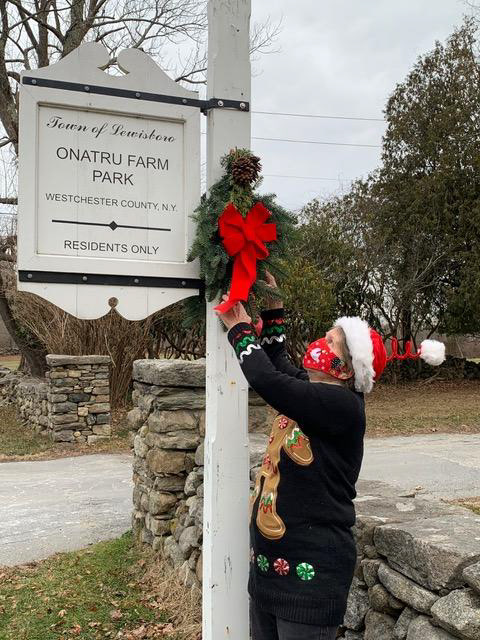 First Day Lewisboro
 - The Garden Club is participating in the Lewisboro Parks & Recreation  First Day event for 2021 as we have done in the past.
This year we are making up Pollinator Palace "kits" for families to drive through and take home. The kit contains the woody materials, instructions and links to the NYS Life Science curriculum and other info about pollinators.
Pictured are the leaflets included. They will get the sliced wood and other commonplace materials to complete the project.
Mary Ann Eggleston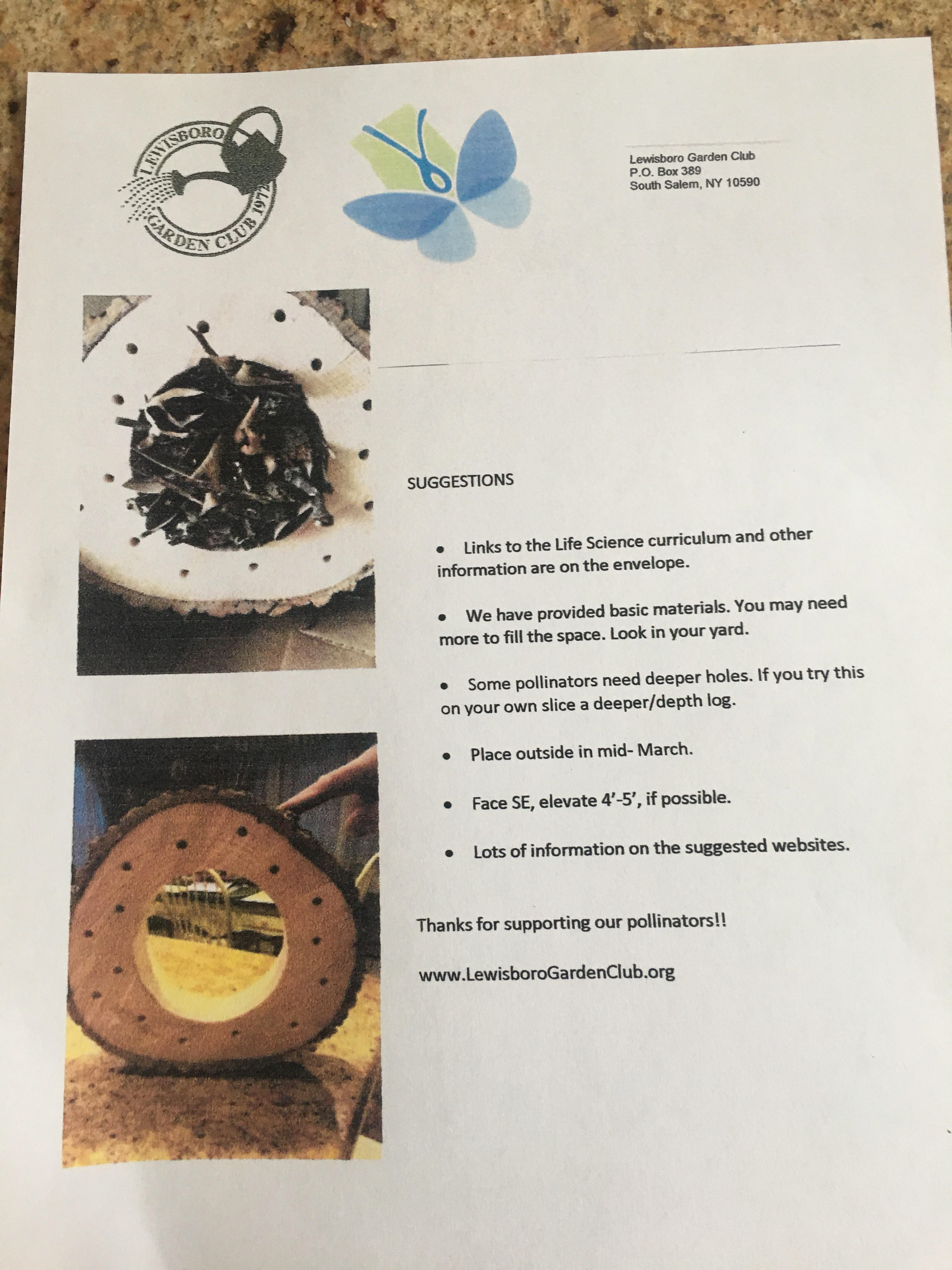 Golden Roads Driving Tour
Late March and Early April
Enjoy this tour through Lewisboro and see the over 50,000 daffodils that have been planted through the effort of the Golden Roads committee and support of community members. The Town advises that tour participants be of the same household and remain in their vehicles throughout the tour.  
Directions
Everything Hydrangeas
June 3 Wednesday, 7 PM, Lewisboro Library
Adam Wheeler from Broken Arrow Nursery presents, "Everything Hydrangeas."  This will be a ZOOM presentation.  Registration required please email 
lewisborolibrary@gmail.com
.  
Each year the Garden Club awards students a scholarship who will be pursuing studies in subjects that support the Club's goals.  This year's winners were Cat Curry, Sustainability Club, Annie Kennedy, AP Environmental Science and Evan Calves, Seminar for Environmental Studies.  
Business Meeting 
September 3 Thursday, 6:45 PM, Onatru Farm House
Led by Maureen Koehl, Alice Poor History lecture.
Alice Poor Fall Clean Up
September 5  Saturday, 9 AM, Onatru Farm
Please bring your gardening tools. (Rain Date: September 6, Sunday 9 AM)
Year-Round Beauty from Bulbs 
October 1 – Thursday, 7 PM, Lewisboro Library
Michele MacKinnon presents, "Year-round Beauty from Bulbs"  - This will be a Zoom event Please register on the Lewisboro Library website
Right Tree, Right Place,
November 5 – Thursday, 7 PM, Lewisboro Library
Michael Almstead certified arborist, presents "Right Tree, Right Place," from the Almstead Tree Service. Please register for the Zoom presentation on the Lewisboro Library website
Golden Roads Daffodil Planting 
November 7 – Saturday, 8:00 AM to 2:00 PM
T
hank you past roadside daffodil planting volunteers and those who signed up for this fall's planting at the Lewisboro Library Volunteer Fair. Your support of the Lewisboro Garden Club's Golden Roads Daffodils roadside beautification initiative is much appreciated.  
This year, due to the coronavirus, our 14th annual daffodil planting will be a much smaller event and limited to garden club members only. The planting will adhere to the then current government coronavirus requirements, including cancelling the planting if indicated. 
The garden club will plant 1,200 to 1,400 tall golden yellow daffodils behind the existing Golden Roads daffodil blend at Vista Community Park, Route 123 and East Street.
Hopefully, next year we'll again get together as a community of volunteers, to continue beautifying Lewisboro's roadsides. 
Please stay safe and well.